One cook, many meal possibilities…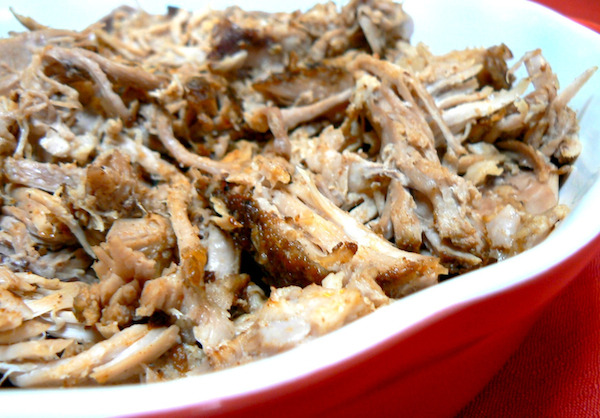 One batch of meat, endless possibilities.
 Pulled pork is one of my favorite things to cook, mostly because I know I'll have the leftovers on hand for the next few days to help simplify my life. The meat is juicy and tender and serves as a great compliment to breakfast scrambles, salads, and even stir frys. This recipe uses a simple dry rub that gives the meat a smokey flavor from the oak smoked paprika, and yields a more neutral and versatile flavor than one smothered in a paleofied BBQ sauce. These leftovers work great for turning regular salads into awesome salads, as well making lettuce wrap tacos for a super easy meal. Here are a couple of the many ways that I make great use of the leftovers from this recipe:
Pulled pork breakfast scramble: Heat a skillet with a touch of coconut oil and add a few ounces of your pulled pork. Add your eggs to the skillet and make a quick scramble, or cook your eggs separately and top them with your pulled pork. I like to whip my eggs first so that I can fold them up in the pan, and then top them with a slice of tomato and my pork. I will confess that when I do this in the morning it does not look as pretty as the picture, but I do eat this every time I cook a batch of pulled pork!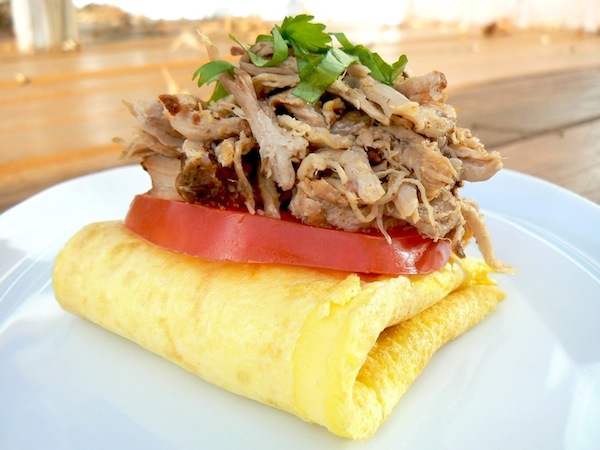 Cucumber pork sliders: This is a fancy version of a lazy lunch that I've eaten many times. Pack yourself some cucumber slices, pulled pork, guacamole or avocado slices, and some sambal oelek (hot chiles in vinegar) or hot sauce. Cucumbers are crisp and work great as a replacement for chips or crackers. Top your cucumber slice with some guacamole and top with pulled pork and hot sauce. Quick and simple, and if you take your time you can make super pretty hors d'oeuvres for your friends like I did in the picture.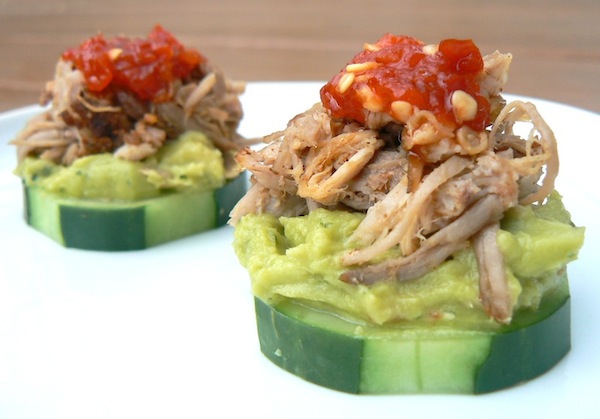 Ingredients:
One 4 to 6 pound pork shoulder
6 cloves of garlic
2 small white or yellow onions
Dry rub:
1/4 cup Spanish smoked paprika
2 tbsp dehydrated minced onion
1 tbsp ground black pepper
1 tbsp cumin
1 tbsp chili powder
How you make it:
Peel your garlic and cut each clove in half. Using a thin knife poke holes into your pork shoulder and then press your garlic in. I like to stick a few pieces under the fat cap as well.
Mix your dry rub ingredients well in a bowl or large plastic bag.
Coat your pork shoulder with your dry rub as evenly as possible. Allow your spice coated pork shoulder to sit in the fridge overnight if possible. This step is not necessary, yet I find that this marination time helps the meat pull some of the spice in better. You can either use a large resealable bag or plastic wrap.
Slice your onions into thick slices and line your slow cooker with them. Place your pork shoulder on top of the onions with the fat cap facing upwards.
Set your slow cooker to low for 8 to 10 hours. Your meat is done when it easily pulls apart with a single fork.
Remove your fat cap and bone from the meat. Now simply use a pair of forks to shred your tender meat into pulled pork goodness.