The book that I should have written…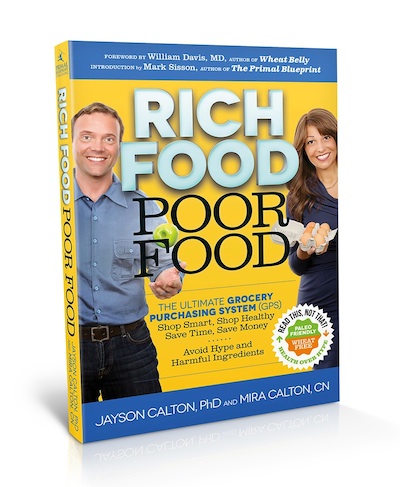 Rich Food Poor Food… Actually, I really shouldn't have written this book, but I wish I had done so years ago for my nutrition clients. For years, I've been bombarded with food shopping questions. Clients would always ask me with big wide eyes if a product was good or bad for them. Constantly being slammed with information from food companies, magazines, and word of mouth, people really didn't know what they should actually be looking for when they were shopping for food.
When I caught word though the Paleo grapevine the Mira Calton and her husband Jayson Calton PhD. were finished with this book, I offered to review one for two reasons. One, I wanted to get my paws on a copy to read and two, I was hoping to find a book on food shopping that I could finally point clients and FaceBook fans to. For years I've felt as if I've spent a majority of my consulting time with clients talking about their grocery shopping strategy. So when I say I should have written this book, I mean that this book contains every cheat sheet and shortcut explanation guide that I should have created for clients in the past to save time. Now I don't have to, I can just direct them to a rather inexpensive paperback that makes the subject seem rather simple. By the time you're done with the book, you'll also be well equipped to teach someone else the do's and don'ts of food shopping.
Know before you go…
Rich Food Poor Food starts out with a pep talk about shopping before you actually get into the store. The book gives a swift talk about how to decipher food marketing that manufactures use to sell every possible product to you, what EMDs (Everyday Micronutrient Depleters) to keep an eye out for in these products, and touches upon which ingredients to look for that have a high probability of being GMO (Genetically Modified Organisms) such as soy, canola, and corn.
What will this guide break down for you?
Dairy
The advantages of grass-fed and organic dairy.

The facts about dairy pasteurization.
The skinny on non-dairy milks.
What to look for when selecting yogurt, greek yogurt, kefir, sour cream, cottage cheese, and butter.
Everything you need to know about purchasing eggs.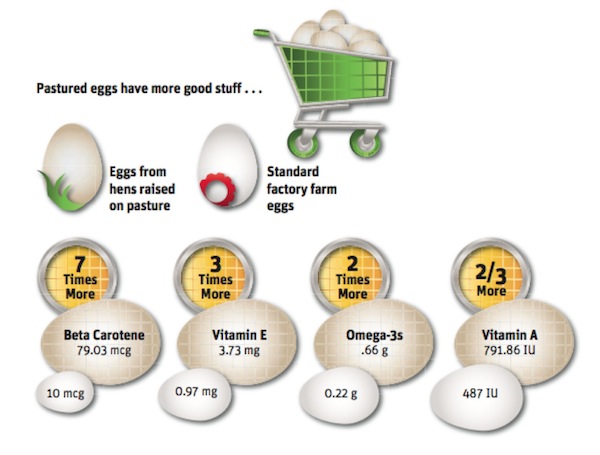 Meat
Clarifications on what grass-fed, grass-finished, and organic mean. 

Defining terms such as natural, free-range, hormone/antibiotic free, pasture raised, air chilled, and organic.
Recommended brands to purchase for meats and deli meats.
Fish & Seafood
Which wild products you want to keep in your cart. 

Learn which fish you should avoid due to sustainability issues.
Recommended brands for fresh, frozen, and canned seafood.
Produce
Learn how to bread decipher PLU codes for spray-on farms (conventional), organic farms, and franken farms (GMO).

The fab 14 items that have little risk of being GMO or containing pesticides.
The terrible 20 items that have a high risk of being GMO and containing pesticides.
Recommended products ranging from fresh to canned to frozen.
Condiments
How to make your own mayo and ketchup. 

What to look for when selecting products ranging from salsas to salad dressings.
Guide to purchasing nut butters.
Who is this book for?
This book is for anyone who finds themselves asking questions about foods or food brands being good or bad. This book is for the people that email me questions about which food products to buy for my recipes! This book is for everyone from the novice paleo/primal fan to the average American person that falls victim to silly food marketing tricks.
If you find yourself unsure about how food labeling and food terminology works, this book will answer all of your questions and give you confidence. If you have someone in your family that seems to be misled by food marketing ploys, this book will help set them straight.
This book helped me as well. As a practicing nutritionist I was hoping to find new ways to teach my clients and fans. This book did what I was lacking in my practice, by condensing all of this food shopping knowledge into an easy to read format with lots of pictures and charts. This book is going to help people because it is laid out beautifully with lots of color graphics that are great for low attention spans. I also love that it recommends brands in each section, as that is what many people are looking for, they simply want to know what they should be buying. I enjoyed reading my copy as it refreshed my memory on how I can better deliver knowledge to people and I am thankful for that. I'll now be passing my copy on to some friends and relatives, as this is a fun and easy read that I know they'll actually get through.
I must disclaim to you that I received a free copy of this book. Although I was under no obligation to post a review, I chose to do so anyways. I highly support this type of nutritional knowledge and know that this is a cheap product that will vastly help lots of people. The fact that the authors are great people doesn't hurt either, and they've been present in the Paleo community for quite some time. They made this book for everyone, yet it certainly does help the person looking to improve their diet by making optimal food shopping decisions. If you pick up the book (and I suggest you do if you feel you have things to learn about food purchasing) I hope you enjoy and appreciate it as much as I did.