1. Start by cooking yourself a pork shoulder.
Your average pork shoulder at your market will be 4 to 6 pounds. They are relatively inexpensive, easy to cook in your slow cooker, and provide savory pulled meat that is very flexible in a meal plan. Try this recipe for a standard crock pot pulled pork.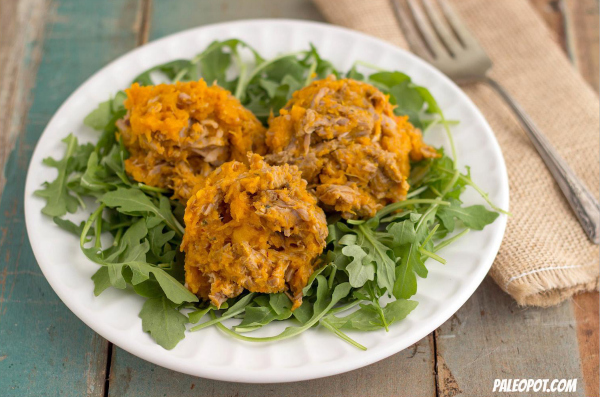 2. Bulk cook sweet potatoes in your crock pot.
Why tend to an oven when the magic crock pot can do stuff for you. Wrapping them in foil is optional as well, yet it will caramelize the potatoes better. Simply cook them on high for 2 to 3 hours, or low for up to 5. One less thing to worry about.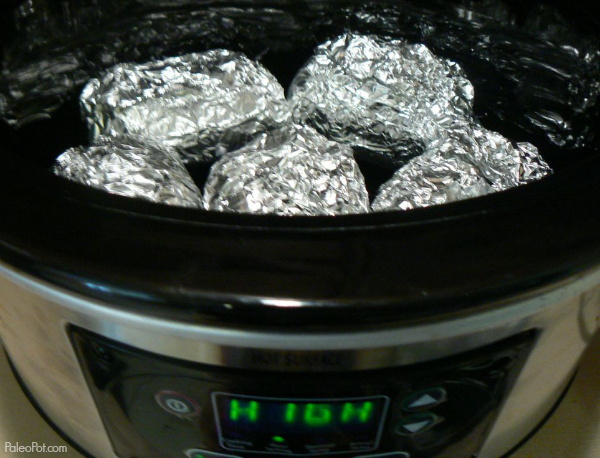 3. Cook a whole chicken in your crock pot, and then make broth with the bones.
This chili cilantro lime chicken recipe is one of my most popular recipes. The chicken is easy to prep, yields a ton of juicy meat, and then you can use the remaining bones to cook yourself a batch of zesty bone broth. Double win.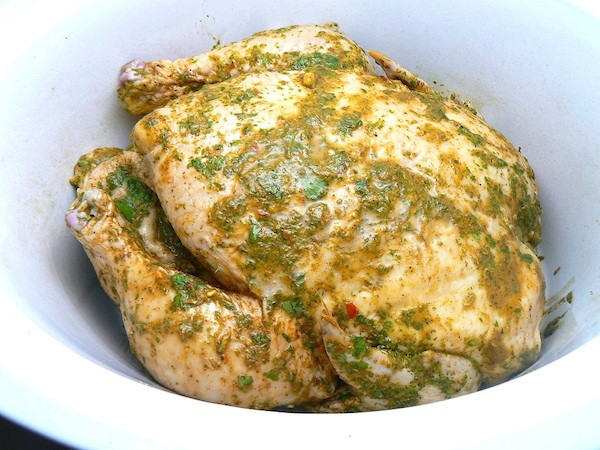 4. Use a bag of cole slaw mix as an easy stir-fry starter.
This is one of my favorite short cuts for a last minute dinner idea. Simply add some ground meat or sausage and whatever seasonings you are in the mood for. I usually add Thai spices with ground beef and some chili sauce.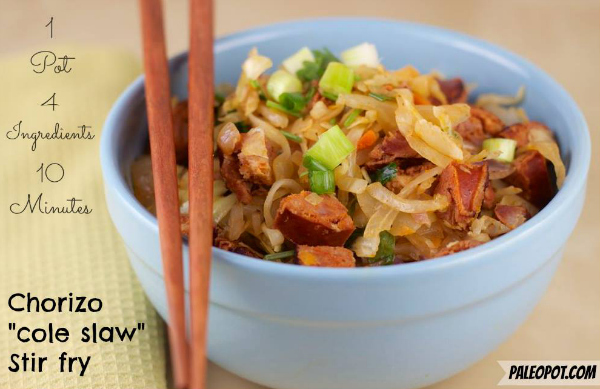 5. Think leftovers for breakfast.
Bacon and eggs every day can get boring. Why must one always eat designated breakfast foods every day anyways? Use your bulk cooked crock pot meals to create awesome protein-packed breakfast skillets that will keep you full an energized. I love heating up leftovers in some coconut oil or ghee, and then adding in some eggs at the end, or sometimes no eggs at all.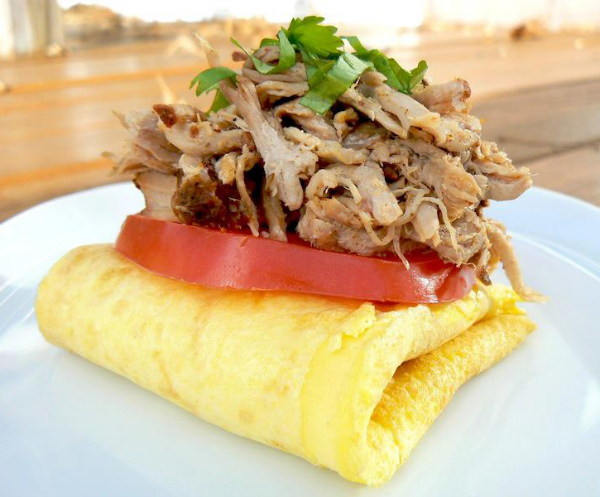 6. Cook that cauliflower mash on your meal plan while you sleep.
Waiting for water to boil is boring. Just use your slow cooker to cook your cauliflower faux potatoes while you are off doing more important things. This is another reason why I have 4 slow cookers.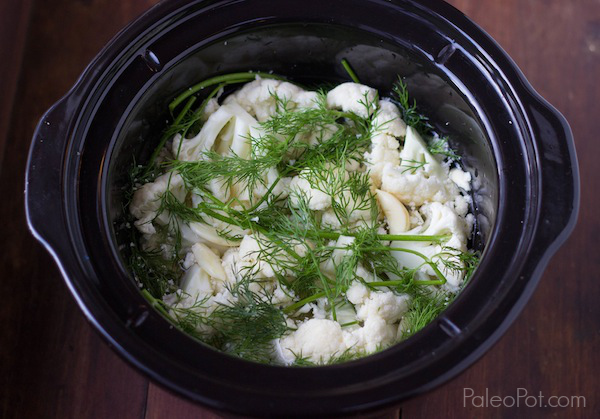 7. Use a jar of sauerkraut and some sausage as the easiest last-minute meal idea ever.
I often turn to a jar of kraut and a package of sausages when I am lazy or short on time. Cooked in the slow cooker like this recipe, or simply baked in the oven in a pyrex dish, this meal will likely cost you less per person than a fast food meal.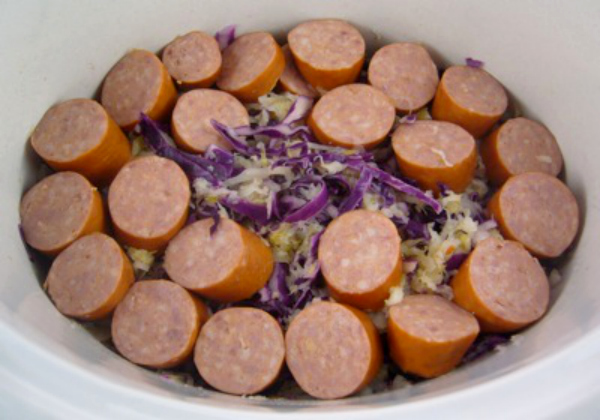 8. Cook a large recipe with the intent of freezing portions.
That's right, cook more than you need and freeze portions for later. Knowing you have meals in the freezer that you simply have to reheat in the oven will keep you on track and prevent you from stopping off to get crappy convenience foods. My hungry man sweet potato casserole is the perfect recipe to do this with.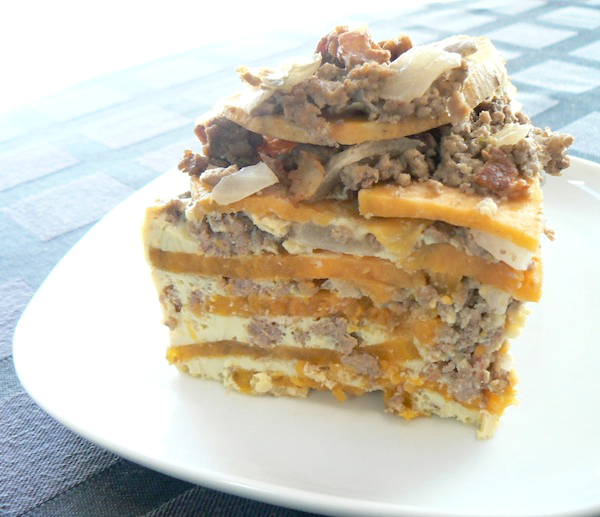 9. Make a salad that will last you 3 days.
Salads with meat and marinades tend to taste better after a day or two in the fridge anyways. Save your prep time and make yourself a really big salad that will stretch out over 3  days. I often buy the beef that is on sale, marinate it in some sort of quick citrus vinaigrette, and then add it to a chopped salad that I eat randomly over the next 2 days. You'd be surprised with how big of a salad you can make for $10, which sure beats 1.25 "value meals."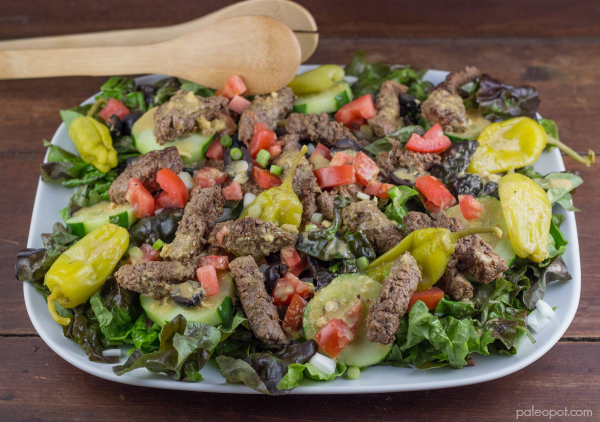 10. Stock up on spicy to help replace your craving for sweets.
This tip obviously won't work for everyone, but I personally find it works wonders for those that enjoy and tolerate spicy foods. Adding some heat to your meals will stimulate your taste buds and senses in a way that can trick your brain into forgetting you are missing sweet things. My personal favorites are sambal oelek (chili paste), thai red curry paste, jalapeños, banana peppers, and cayenne pepper. If you want to make your own awesome sauce, my paleo chipotle adobo sauce is a sure fire winner to put on everything.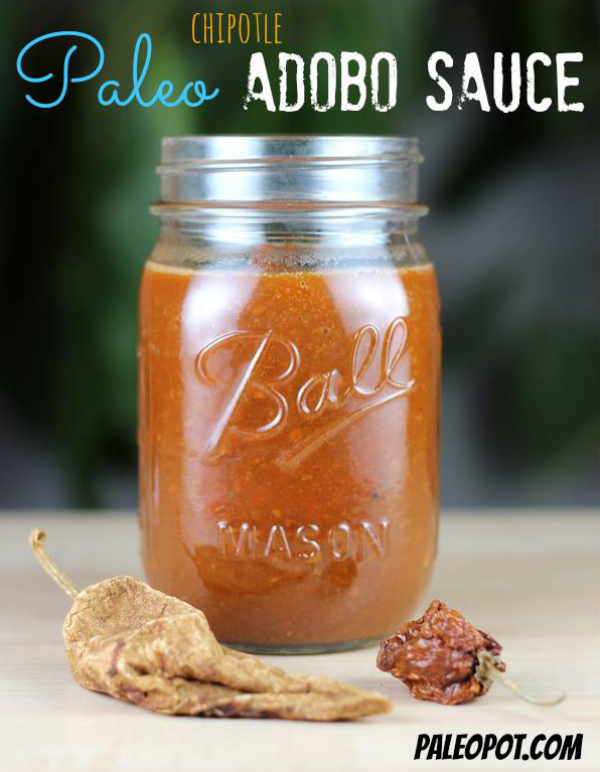 I know that some of these tips may come across as common sense to some of you, yet sometimes simple reminders can help. I wish you all the best this year and am glad I can be part of your real-food lifestyle. As I enter another year with this blog, it is still a very cool and special feeling knowing that people actually cook my recipes. Thank you for being part of this and inspiring me to keep creating new material – Jason.
You should cook these too:
Category: Uncategorized