We put eggs in the crock pot, for real.
This dish is dedicated to all of you that work hard and play harder. Not everyone who follows a paleo template is looking to lose weight. I know some of you are wicked awesome CrossFitters and weight lifters. You need lots of food, lots of macronutrients, lots of awesome to help keep you progressing. Many look for protein and performance supplements to introduce into their diets in order to get everything they need to succeed at the gym or wherever they work out. Check out this Tony Horton's Power Life Supplement Review to see whether it's something you'd be interested in giving a try before your next weight-lifting or workout session. Some of you just really like sweet potatoes, and that is just as noble. The hungry man is just a catchy title, and I fully expect the ladies to make this big batch of goodness as well. This recipe yields a lot of food, all at one time, eat it or freeze it, you know you need it. By the time you read this, I've already eaten this for 3 different meals. Catch up! Before you go crazy and start peeling your taters, please take note that this recipe was cooked in a 6 quart slow cooker and filled it up about 3/4 of the way.
What you need:
2 pounds of lean ground beef (other ground animals will work too)
1/2 pound of bacon
8 eggs
3 large sweet potatoes (get 4 just in case)
1 large white onion
1 large red onion
Spices: Cayenne, paprika, garlic, black pepper, oregano
1 large deep rimmed skillet or pan
Coconut Oil to grease your slow cooker
Food Prep:
Peel your sweet potatoes and microwave them for 2-3 minutes to soften them slightly
Slice your sweet potatoes into 1/8″ slices, or thin like in the picture
Dice your bacon finely and brown it in a pan into crisp pieces
Remove your bacon from the pan and set it aside for later
Dice your onions into large chunks and add to your pan along with your ground beef. Make sure you use a deep skillet or pan big enough to brown 2 pounds of beef and 2 onions.
Season your beef as you wish. I used a generous amount of cayenne, paprika, black pepper, garlic powder, and oregano.
Make sure your beef is fully browned and onions are translucent.
Beat your 8 eggs in a bowl, blender, or food processor. I use my trusty magic bullet. Add some cayenne and paprika to your egg mixture if you wish.
Assembly:
Grease your slow cooker with some coconut oil.
Line the bottom of your slow cooker with slices of sweet potato. Just enough so that you cover the bottom.
Spoon in a layer of your seasoned beef onto the sweet potatoes.
Sprinkle some of your crisped bacon pieces on top of the beef.
Repeat.
The goal here is to keep layering evenly until you use up your supplies. If you end up with some extra sweet potatoes, I'm sure you can think of a few ways to eat them later.
Once you have finished layering, pour your egg mixture over the top. Trust me on this. The eggs will fall into place and make the magic happen.
Cook on low for 6 hours.
Allow pot to cool. If your ceramic crock is removable, throw it in the fridge overnight. This will allow the dish to congeal and set nice. You can then slice the casserole into pretty pieces like in the picture.
Thank me after you WOD faster or lift heavier things after eating this amazing stuff.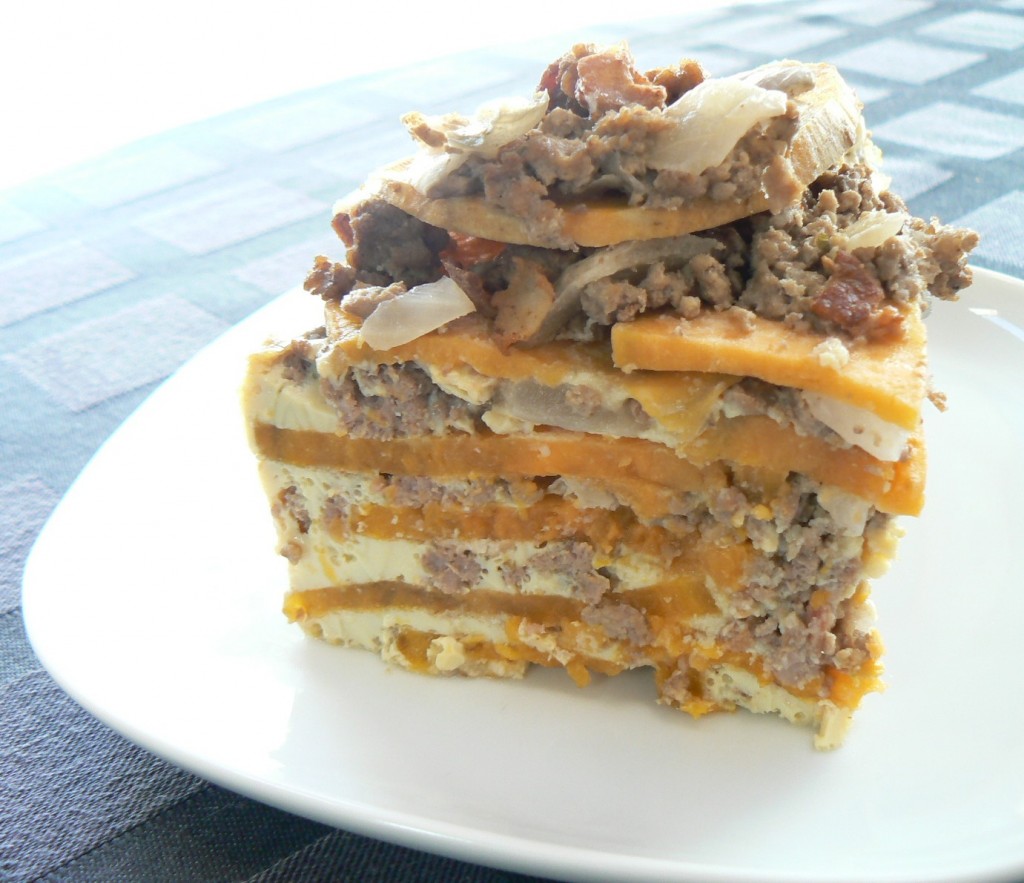 If you don't like sweet potatoes, you're wrong.
---