Meatloaf BLT, yes Sir.
I wrote up this piece for the kind folks over at the 21 Day Sugar Detox. With the theme of 3 meals from 1 pot, you can cook less and be better prepared to stay on track for the next few days with less worry. There are lots of Paleo guides, plans, and detox programs out there, yet this one still seems to have the best success rate based on both how simple it is, and the support they off with their online community.
These leftover ideas are based off my Super Easy Slow Cooker Meatloaf recipe, which you can get here.
Now in addition to the recipe I use for my go-to paleo meatloaf, I want to show you how I eat up my leftovers. These are just 2 examples of the many ways you can work the leftover meatloaf into the next couple days. Chop it up cold and use it to top a salad, cut it up and throw it  into a spicy omelette, or just cut it into long strips and eat with lettuce wraps and salsa .
Next Morning Leftovers: Seared meatloaf with spicy pan fried spinach

Ingredients:
1 tbsp coconut oil.
1 tsp hot red pepper flakes.
1 clove garlic, smashed and minced.
2 large handfulls of fresh spinach.
1 to 2 slices of your leftover meatloaf.
1 or more eggs.
How you make it:
Set a large skillet to medium heat, add your coconut oil and garlic. 

Once your oil is hot, add your spinach and red pepper flakes to the pan.
Turn up your heat as you quickly stir your spinach, looking for it to lightly crisp up.
Once spinach is cooked, remove it from your pan and use it to line your plate.
Add a small amount of coconut oil to your pan and turn up your heat to medium-high.
Add your meatloaf slices and egg(s) to the pan. Let your meatloaf cook until a nice crust is formed on the outside, and cook your eggs as desired.
Top your spinach with your meatloaf and eggs. Enjoy!

Lunch Leftovers: The meatloaf BLT.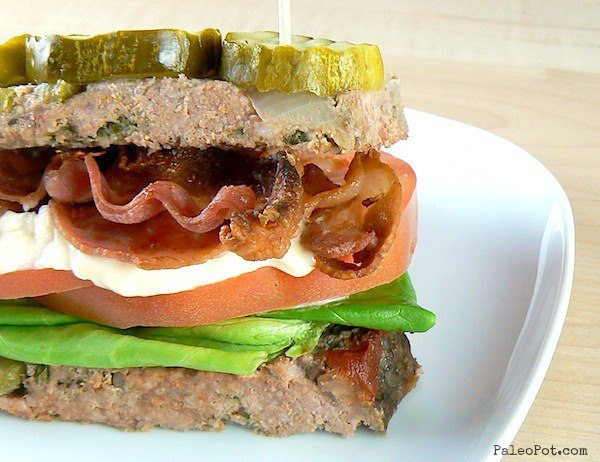 Ingredients:
2 cold or warm slices of your meatloaf. 

Freshly sliced tomato.
Crisp Boston lettuce.
3 strips of bacon.
Paleo mayo (optional).
Pickles for garnish (optional).
How you make it:
You use your slices of meatloaf as if they were bread. 

You assemble your meatloaf BLT.
You enjoy fitting it into your face.
Note: You can also put all of the same ingredients inside of a lettuce wrap for the same flavor concept.
Enjoy, and make sure to check out the 21 Day Sugar Detox!