Tomatillos are going into your crock pot today…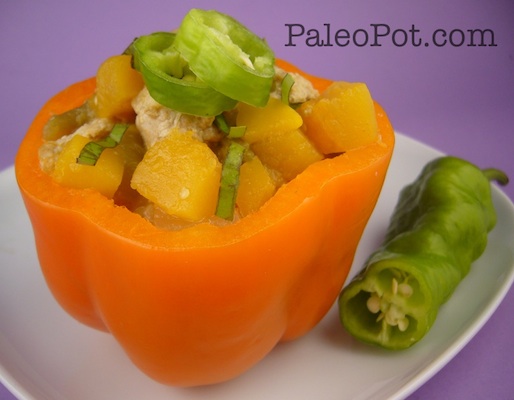 I like spicy things. I'm sorry I'm not sorry. When eating Paleo on the regular, I find it important to vary your vegetables and food cultures. The tomatillos at the farmer's market screamed at me, and I decided that they would have to go into a recipe. This is the result of green tomatoes talking to me. The tomatillos worked out really well, as they maintained some of their texture in addition to providing some moisture to the mix. They add such a differently flavor to a chili, which brings out the flavors of the peppers in a different light. I like it, a, lot. This is a great way to introduce someone to tomatillos while making use of a boring pound of ground chicken or pork that you don't know what to do with. The shopping list is nothing you should fret over either, just follow my directions and let everyone else tell you that you're awesome. You're welcome!
What you need:
1 pound of ground chicken or pork. Either works. 50/50 works too. Just go with a white ground meat.
1 pound of tomatillos, chopped into a very large dice.
1 small to medium butternut squash, peeled and cut into a small dice.
2 small cans of diced green chiles.
2 medium green chile peppers such as serranos (optional).
1 medium white onion, cut into a large dice.
1 tbsp coconut oil.
2 tsp cayenne pepper.
1 tsp paprika.
1 tsp garlic powder.
How you make it:
Start your skillet on medium heat, adding your coconut oil and spices.
Add your ground meat and diced butternut squash to the pan. Stir and turn occasionally until the meat is browned and the squash is soft.
Add your fresh chiles and onion to the pan and stir in to coat them with juices, remove skillet from your heat source.
Line your slow cooker with your chopped tomatillos and canned chiles (see picture below).
Dump your skillet into your slow cooker, on top of your tomatillos and chiles.
Cook on low heat for 4 hours.
Serve as is or use bell peppers as edible bowls like I did for the pretty picture. (Hey, it's a food blog that uses the crock pot!)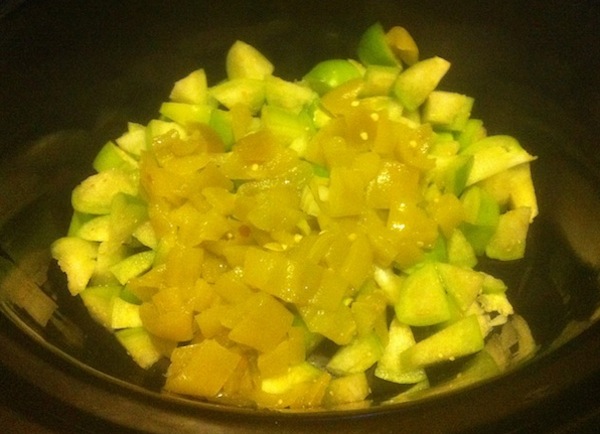 Chopped tomatillos and green chiles in the bottom of the slow cooker.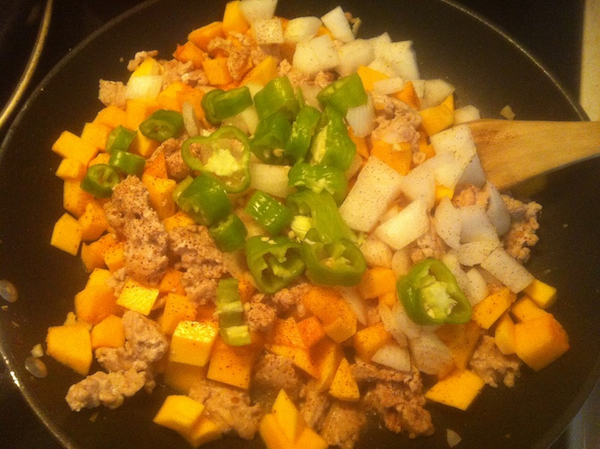 The skillet prep.