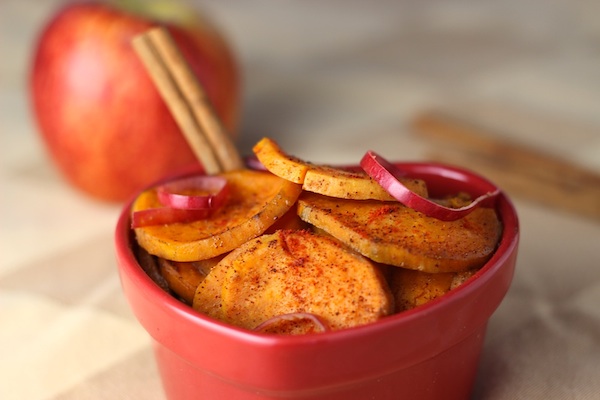 This is a super easy slow cooker recipe for those of you that like to cook sweet potatoes in bulk. Apples and sweet potatoes, a dish full of carbs. This one works well for the athlete or weightlifter that wants a healthy dose of good carbs to fit into their post workout meals. You can alter the seasoning amounts to your liking, but I really like to combination of cinnamon and cayenne. It is definitely not boring.
What you need:
4 cups of sweet potatoes, sliced medium thin. I used about 6 smallish potatoes. 

2 gala apples. Peeled, cored, and sliced medium.
2 tablespoons of ghee or coconut oil.
1 to 2 tsp of cayenne pepper.
1 to 2 tsp of ground cinnamon.
1/2 tsp ground cumin.
slight pinch of finely ground sea salt.
How you make it:
Peel and slice your sweet potatoes into medium thin slices. I use a mandoline. 

Peel and core your apples, and slice the same thickness.
Layer your apples and potatoes in your slow cooker, mixing the apples among the potatoes.
Add your seasonings and mix well either by hand or with a spoon. Make sure everything is evenly coated.
Add your coconut oil or ghee to the top so it melts down during cooking.
Cook on high for 3 hours or low for 6.
Results will be somewhat mushy and brown, yet super easy and super tasty. Enjoy!