You can convert your old Slow Cooker into a Programable cooker for under $10.
Just plug your old slow cooker into one of these basic lighting timers. You now can decide when your slow cooker will turn on and shut off.
Say you are going to be out of the house for 8+ hours and the recipe only calls for 4 to 6 hours of cooking time? You can now decide what time your slow cooker will turn on and shut off.
One of these simple lighting timers should cost you under $10. Easy and cheap!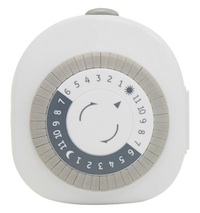 This $8 timer turns your old slow cooker into a programmable slow cooker and has a grounded connection.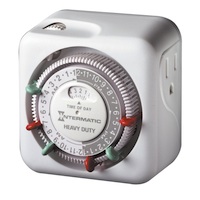 Same type of unit, Does the same job with different control switches for a few bucks more.
Works the same as the other models, yet is digital for easy reading. Under $10.

What is Sous Vide Cooking?
French for "under vacuum" it is a method of cooking food sealed in airtight plastic bags in a water bath at an accurately regulated temperature. The intention is to cook the item evenly, and not to overcook the outside while still keeping the inside at the same "doneness". I would describe it in short as the most precise method of cooking meat and eggs available. You decide what temperature you want to cook at and your protein will cook completely even at that set temperature.
If you want a steak medium rare, you set the sous vide for about 134 F and then simply sear the steak before serving. I especially like the Sous Vide method for cooking eggs. You can cook the yolks to many different consistencies. If you highly prefer the yolks of your eggs to their whites, you'll really love what you can do with the yolks in a Sous Vide. In the picture before, there is an egg yolk that was cooked at 151 F for an hour. The yolk sets to a cooked, yet pliable consistency, taking on the creamy consistency of a soft cheese. How cool is that?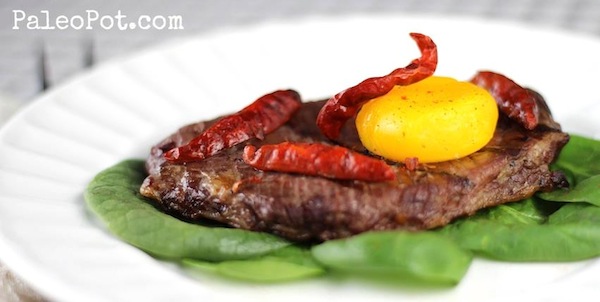 Skirt steak topped with a 151 F Sous Vide egg yolk.
Why hack my Slow Cooker into a Sous Vide?
Grass-Fed and Pastured proteins are expensive! If you are not a master with the grill and don't want to risk messing up your great piece of meat, you can achieve a basically guaranteed level of doneness and make cooking idiot-proof with the Sous Vide! You simply then have to sear the outside to your desired doneness.
Save kitchen space by only getting a DSV Sous Vide Controller instead of another stand-alone Sous Vide cooker that you don't want taking up space in your kitchen.
Save money. A DSV controller to pair with your old Slow Cooker is only $99. Stand-lone Sous Vide units are much more expensive. The Sous Vide Supreme Demi costs $329 and the Sous Vide Supreme is $428. I wanted to cook Sous Vide from time to time, but not at that price tag.
You get to cook meat like a 5 star French chef.

1) Any Analog Slow Cooker
This means a slow cooker that simply has an options to turn a switch from the off position to warm, low, or high settings. You need a unit that starts to warm automatically once plugged in while already set to high. To test your unit, set the switch to high and then plug the unit in. If it heats up, you're in business and your slow cooker will work fine.

This is your cheapest option for a smaller unit. Think under $20. It works.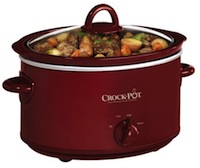 The Official Crock Pot brand Rival's version of the above unit. The oval shape is ideal. Costs slightly more at about $25.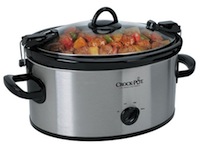 A slightly larger unit that also comes with a locking lid, which is pretty cool for pot lucks and family gatherings. Costs about $30.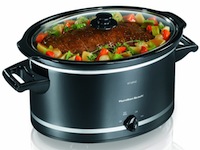 The model to get if you're planning to cook larger pieces of meat. Costs about $35
2) One DSV Sous Vide Controller
There are articles online for how to build your own Sous Vide controller, but if you don't want to order a bunch of parts and use a soldering iron to build yourself a controller, you can just buy one that Dorkfood already assembles for a fair price. You simply plug your analog slow cooker into the DSV controller's outlet and place the DVS's temperature probe into the water bath in your slow cooker. Then you simply program your DSV controller to what precise temperature you wish to cook at. It's really that easy.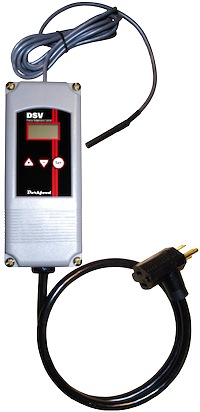 This is the unit I have. I already had two analog slow cookers in my kitchen, and had been wanting to try Sous Vide cooking. This unit is only $99 so it let me make the jump up to my own Sous Vide station without having to buy a more expensive unit or add another large item that takes up space in my kitchen. It looks simple but it also simply just works. I have used it quite a few times, every time checking the center point of my meat after cooking with a probe thermometer. All times the meat's temperature was within half a degree of the setting programmed on the DSV controller. That's pretty dang accurate, and I've been using a $20 crock pot to get it done. My Sous Vide system cost me $119 total (plus vacuum sealer system, more on that later)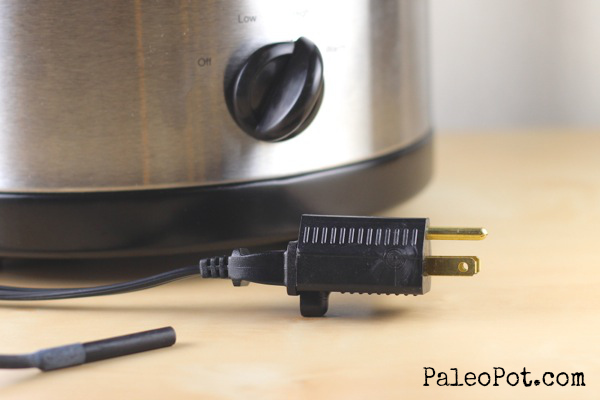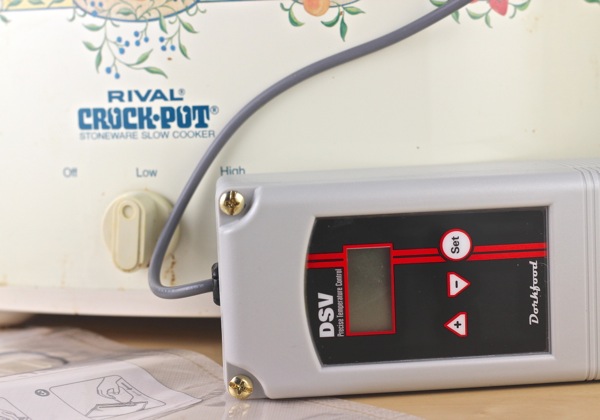 3) A vacuum sealer system
Items cooked in the Sous Vide water bath must be vacuum sealed in plastic bags (that are BPA free) so that the food does not make contact with the water. Vacuum sealing ensures maximum surface area of cooking. Keep in mind that many meat packing companies already sell their products in vacuum sealed packaging. Having a vacuum system is idea because you can add herbs, spices, butter, ghee, coconut oil, olive oil, or anything you want to your cooking pouch. I went the super cheap route and picked up a tiny food saver unit and a box of their bags. The unit was about $25 and came with 5 bags.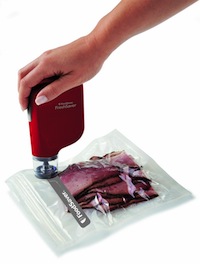 If you want to keep your project on the cheap, this is your cheapest route. this unit works with a bag system. One dozen of the 1-gallon bags will cost you about $8 and the unit itself only costs about $16.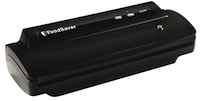 If you're willing to pay about $80 you can get a very good unit that will work much better with a wider array of bags to use and become more efficient.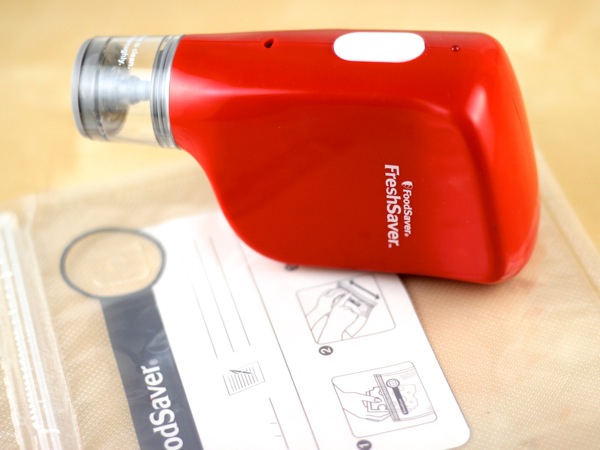 3) Vacuum bags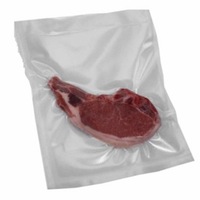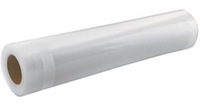 Conclusion:
I was able to set up a fully accurate Sous Vide setup for about $140, and that includes me buying a new analog crock pot, the DSV controller, and the cheap vacuum system and some extra bags. Hacking your slow cooker is pretty awesome.